Give production the edge it needs with HYDMECH profitable sawing solutions.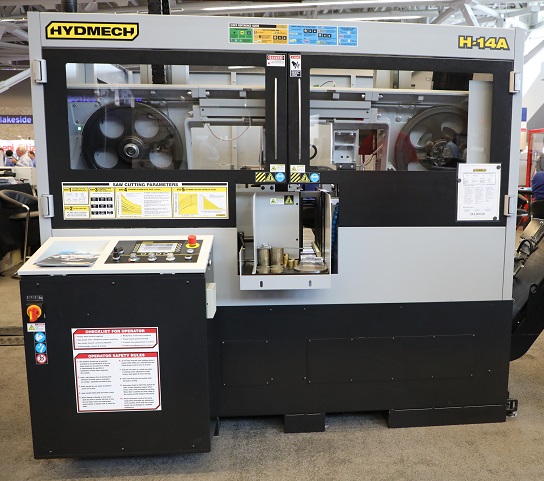 For the past 35 years, HYDMECH has left the competition behind and continues to lead the world today in metal band saw technology. With some of industry's top engineers, the company has pioneered new innovations and products that have revolutionized the sawing industry with incomparable reliability and durability. Second to none, HYDMECH is The Rock Solid Solution.
HYDMECH delivers the widest range of sawing machines in the industry. From unique, portable band saws to 200" mitering, horizontal straight cut off, and vertical band saws – HYDMECH meets your sawing challenges with solutions that'll make a sharp difference to production's bottom line.
These and all HYDMECH products are backed by an extensive world-class network of technicians, sawing specialists, and distributors. And best of all, our products are all designed to use off-the-shelf-parts so you're assured quick repairs when needed.
Band Saws
Horizontal Series
Designed for multi-shift, high-production environments, HYDMECH H-Series saws are horizontal, guillotine saws that deliver big straight cuts – up to 80" – fast. The H-Series is available in semi-automatic and fully-automatic modes of operation with cutting capacities up to 80".
Double Miter Series
Big performances come in small, compact packages. These are some of the smallest saws HYDMECH offers, but they offer the same big, tough performance as our larger saws. The DM-10, DM-12, and DM1318P are all double miter saws.
Horizontal Pivot Series
These saws were industry's first-ever to incorporate swing-head capability. These are versatile, miter-cutting, scissors style machines designed for medium duty applications. Saw models have mitering capability up to 60º.
Vertical Tilt Series
The V-Series saws are built to last and deliver non-stop performances. These are heavy-duty, high-performance vertical tilt frame saws that have the flexibility for cutting two-way miters. The V Series is available in semi-automatic and automatic modes of operation with cutting capacities up to 30″ and bar feeds from 40" to 120".
Vertical Contour Series
Heavy-duty, vertical contour-style saws are multi-purpose to cut a large range of materials – from steel to aluminum, to wood, plastics, rubber, and everything in between! These versatile machines are designed with the flexibility to cut tight radius sections or larger cut-off sections.
Cold Saws
HYDMECH Cold Saws deliver clean, straight, and the most accurate cuts for all your metal applications, including both ferrous and non-ferrous.
HYDMECH premium quality rigid HSS and Carbide circular blades provide some of the best cuts in the industry.
These Cold Saws are available in manual, automatic, semi-automatic models with mitering capacity from 90º, 45º right or left, 60º left, and 45º tilted head.
Carbide Saws
HYDMECH's CNC Carbide Cold Saw line puts precise, reliable cutting tools in the hands of skilled manufacturers and industrial workers around the globe.
Designed for high production, accuracy and high-quality surface finishes in both ferrous and non-ferrous materials, the CSNC Series is offered in a large variety of cutting capacities. The HYDMECH CSNC Series metal cutting technologies are focused on the proper blade balance and precision, ease of operation and reliability at a higher RPM with a greater chip load.
"The HYDMECH CSNC Saws were designed for medium to high production runs with several safety features that allow one operator to run several machines," says HYDMECH VP of Sales and Marketing Rick Arcaro. "In this challenging economy our customers need to do more with less. They need more parts per hour with a superior finish while demanding precision accurate parts. They also want saws that will last for years. As such, this new line of carbide saws continues to offer the combination of quality and durability that are consistent throughout all of the HYDMECH's lines of sawing equipment. This is the brand our customers know they can trust."
The carbide saws come in different sizes, including 65mm, 80mm, 100mm, 125mm, 150mm and 175mm, all packaged with standard bar loaders, chip removal and mist lubrication.
Superior sawing solutions supported by top-of-the-line service technicians and a well-stocked parts department keep our customers' production going strong! The CSNC Carbide Cold Saw was design and built with off-the-shelf parts easily found at local suppliers and supply houses for quick repairs.
About HYDMECH
HYDMECH has become a worldwide leader in metal band saw and cold saw technology and metal sawing solutions.
The company's progressive attitudes combined with innovative solutions in design and manufacturing have earned a solid reputation as a company that meets the sawing challenges head on for all its customers. And it all started with the vision of one man.
Polish immigrant and engineer, Stan Jasinski, founded HYDMECH in 1978 in Woodstock, Ontario. Originally, HYDMECH was an engineering consulting firm specializing in hydraulic and forestry equipment. But frustrated with searching for a saw to suit his needs, Stan exercised his engineering expertise to build his own mitering saw suddenly changing the company's focus in 1980.
Stan's innovative vision created a better mitering saw with a superior performance that grabbed the attention of colleagues and machine dealers in the area. Since then, HYDMECH's drive to manufacture quality sawing technology has never wavered. The company pioneers innovations such as swing-head versatility on its scissors-style saws and consistently deliver the widest range of saws to a vast range of industries, including aerospace, automotive, steel service centers, metal fabrications shops, racing, and more.
Throughout the years, HYDMECH has established a Quality Pledge, which ensures its customers receive the best cost-per-cut solution through advanced engineering technologies, premium quality parts, product longevity, incomparable service, and maintenance. HYDMECH's Quality Pledge makes HYDMECH The Rock Solid Solution for customers in a variety of industries. This pledge is supported by HYDMECH's parent company, The MEP Group.
Contact us today at info@absolutemachine.com or call (800) 852-7825 to learn more.